ADY TERESA AND SIR WALTER - WORSLEY COURT HOUSE DICK TURPIN
Teresa and Walter first approached me about organising an 18th century wedding day for them. After suggesting a few different options, they decided on the whole Dick Turpin theme. All the guests were to dress to the theme and they wanted a really laid back atmosphere, and wanted a tavern type feel to their reception.
They were married at the local church in Worsley and then walked across a very busy round-about to the great distraction of the on coming traffic I might say.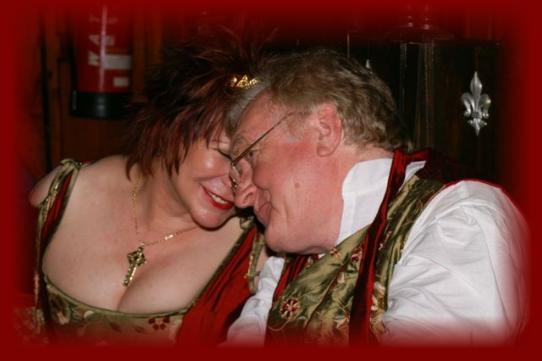 Worsley court house inn was an original coach house for their Dick Turpin / Pirate themed wedding reception. The guest were met by the kings men in their very smart red tunics and white wigs questioning everyone to see if they had see Dick Turpin which was on wanted posters being shown to them outside the venue. The guest were warned that he could attempt to rob the wedding party and they were there to ensure he did not.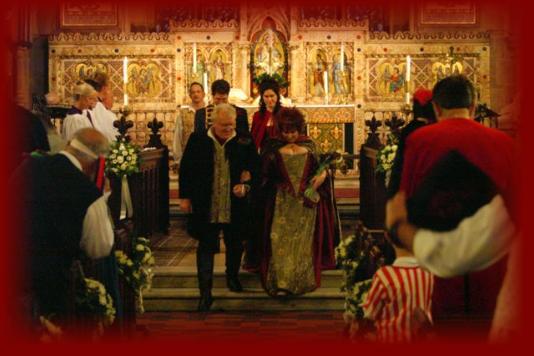 Teresa and Walter took their places at the top table and from then on they had a non stop feast and the ale and wine flowed freely. Period musicians played music of the time and the kings men tried to conscript a few of the guests to no avail. Part way though the night there was an altercation and Dick Turpin burst in holding a gun and held one of the ladies prisoner while he robbed some of the guests of their precious jewels. He managed to make his escape after some gun fire but later attempted to rob the party again but to no avail which ensued in fist fight and sword fight and muskets drawn. He was arrested and taken away by the kings men.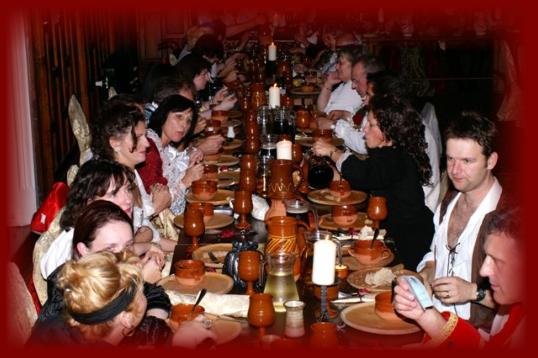 Much merriment was had at Teresa and Walters wedding reception and the guests
were exceptionally opulent in their garb of the time. The night finished off with a hand fasting ceremony, cutting of their treasure trove cake and a kali band.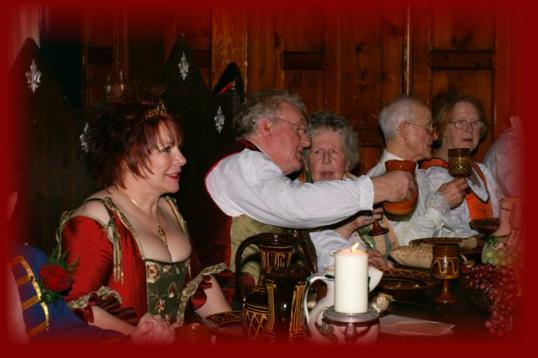 Teresa and Walters comments on their day...
What can we say, magnificent Val, everyone looks absolutely fantastic and have made a lot of effort to dress up for us, we couldn't have asked for a more memorable wedding day and were glad we found you and thank you so much for all the fantastic food and entertainment and things you have put on. Greatest thanks for all your help enabling us to have this for our special day - Teresa and Walter