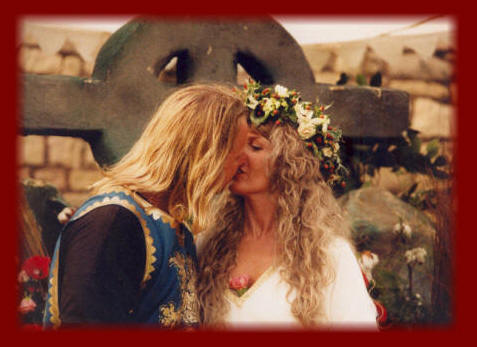 nce upon a time there was a Princess called Valaria. She had always dreamed of meeting her true love. Many years she spent in her tower wondering and waiting
for the bravest knight in all the lands to come and save her and take her as
his wife. Many knights had asked of her hand but none were brave enough or handsome enough for her to give her heart.

Then one day Princess Valaria heard the sound of a horse galloping towards her castle, in the distance she saw the sun reflecting on the battle worn armour of a knight. There was a gathering in the courtyard, the guards shouted, "me lady he demands passage to claim your hand in marriage. What are we to do.?" The Knight was sat astride his mighty war horse and he shouted up to Valaria, "Many miles have I travelled to find you Valaria and I am here to claim your hand in marriage to honour love and protect you, and be everything you seek in a man, I will love you always and will love you till the end of time Make me more than I am and complete in my love for you''
Valaria's heart skipped a beat and she knew the time had come and she had finally met her true knight in shining armour. All those years of waiting and believing were finally ended.
She ran down the stairs of her tower to stand before the man she would spend the rest of her life with. They kissed a kiss that was to last a lifetime...The Royal marriage date was set and below follows a true account of their wedding day.


Royal scrolls were sent to all the royal guests to attend in their finest garb On the 26th July
in the year of our Lord nineteen hundred and ninety nine. Princess Valaria & Sir Andy (Valerie Rowe Hartley and Andrew Hartley) Celebrated their medieval wedding reception in true medieval style.

Here follows a true account of the day....

A date for all the lands to celebrate. Riding side saddle on a beautiful palomino horse, the Princess was met at the castle gates by her men at arms. Young hand maidens strew rose petals in her path. Trumpets sounded the way as she approached the throne set for her. She could hear the sound of trumpets as her knight arrived to claim her hand in marriage....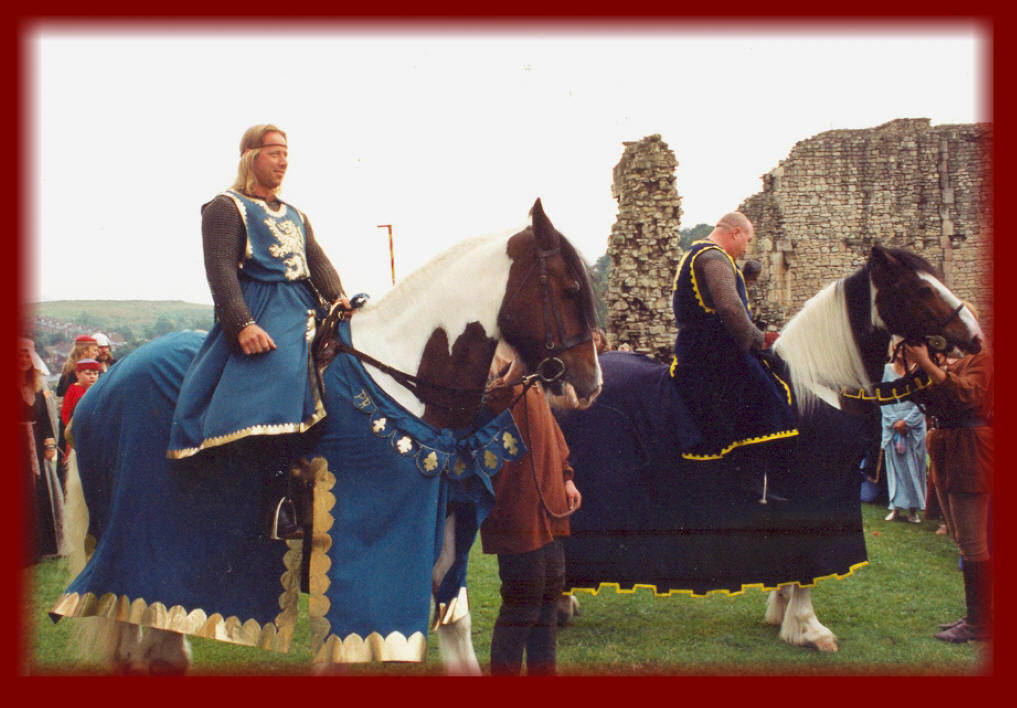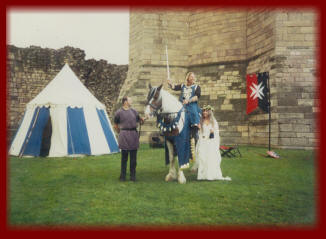 Sir Andy arrived on his mighty horse seventeen hands high adorned in chain maile for all to see and dressed in his heraldic colours of a gold lion symbol. As he rode up he demanded passage to claim the hand of his bride to be Valaria. As Sir Andy rode into the castle Valaria's breath was taken away with how magnificent he looked. Tears welled in her eyes as she realised this was their fairytale wedding day becoming a reality.

The Friar then joined them together as one beneath a canopy in front of a Celtic cross.
There they exchanged love knots and drank from a goblet and declared undying love
for each other.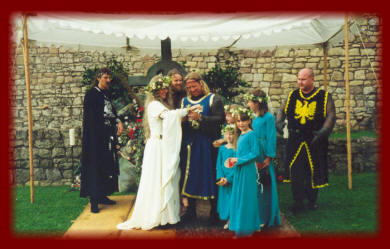 The minstrels struck up merry tunes and the beggars celebrated alike. Their royal banquet was indeed fit for a king with Barons of Beef, whole chickens and loins of Yorkshire lamb, fruits from the holy land, oatcakes and rose petal syrup. Strawberries were strewn across
the tables to compliment the tables laid with wooden platters and medieval pottery....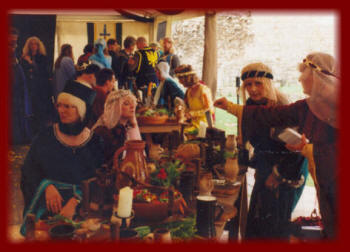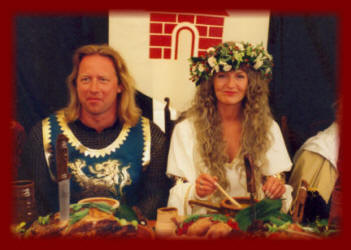 There was none stop entertainment from Robin Hood, Prince John and Sir Guy de Guisbourne. A medieval magician entertained the guests also along with the Royal Jester Juggler, the guests gathered to watch - fire-eating displays, and a ghost tour around the castle to finish. At the end of the night Princess Valaria & Sir Andy looked down from the top of the castle and realised their dream day had become a reality...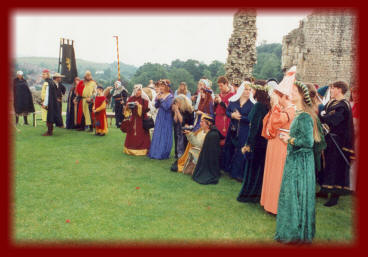 This is a true account of Princess Valaria and Sir Andy's medieval wedding day. The most important day of their life - we hope you enjoy looking at examples of some of the many medieval weddings The Kingdom of Fantaysia has organised and are now presented to you
in our wedding portfolio.